skillShack(⚡); For Students
At skillShack(⚡); we believe that learning should be fun and engaging, and the best way to learn and grow is through a community of like-minded individuals.
For the students out there, we are slowly building out our network of Institutions. Which would allow everyone in your institution to use skillShack(⚡); together and bring the college experince online.
Getting Started
To get started, head to your settings page and scroll to the skillShack(⚡); For Students section.
Select your role from the following:
Student: You will be linked to the institution you select and your progress will contribute to the institution's overall progress.

Administrator: Send a request, which after verification will allow you to manage your institution on skillShack(⚡);.

N/A: Select to opt out of the programme.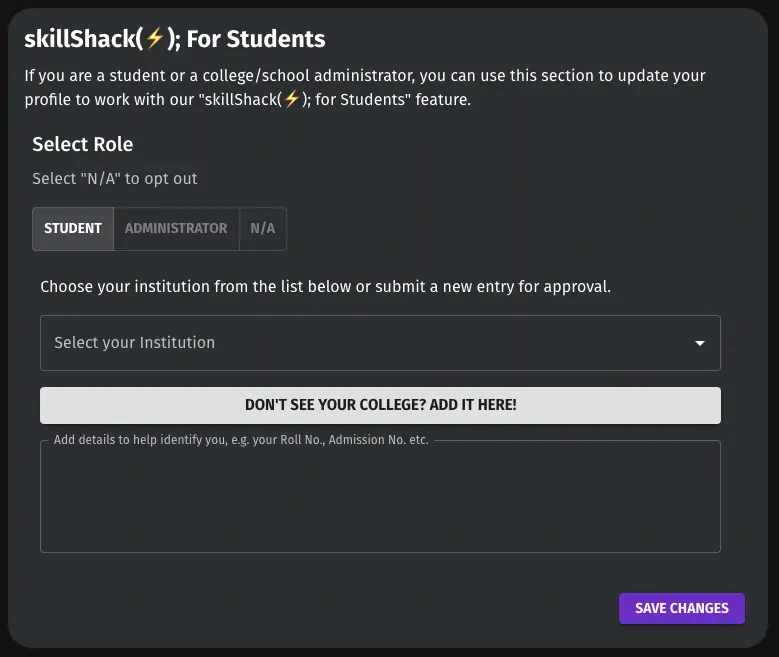 Steps to follow:
Select your institution: Select the institution you want to link to from the list of available institutions. (If your institution is not listed, you can send a request to us by filling the form here).

Add details: Your request will be reviewed by your institution's administrator and to help them verify your account, include any identification you can like: Admission Numbers, Roll Numbers etc.