Comments
Like all platforms, skillShack(⚡); supports commenting on content. Comments are a way to share your thoughts and ideas with other users. Be it feedback on a blog, ideas for a project, or a comment sharing links to resources for the author to look at.

We have a feature rich editor that supports markdown input for you to write your comments. (More info on markdown here)
You can use the buttons above the editor which work the same way as in Microsoft Word or Google Docs to start formatting your comment.
Once done, you can preview the look of your comment by pressing the Preview button.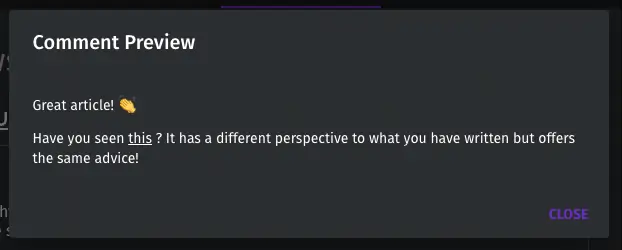 Hit submit to post your comment.

All comments from you are displayed as shown above. We include your profile's tags to add relevance to a conversation. The author and other users can look at your tags and determine your expertise in the subject and take feedback accordingly.